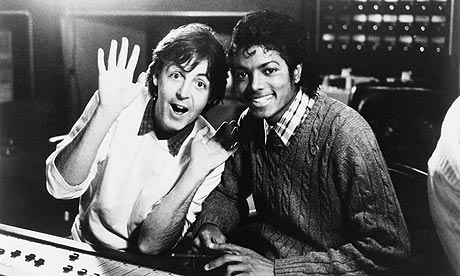 Michael Jackson and Paul McCartney, "The Girl Is Mine," #2, 1/8/83
First of the two superstar duets between these two guys; this is the slow one that was the first single off
Thriller
, and it was kind of a surprise it didn't make it to #1 (especially since the equally sappy "Ebony and Ivory," by McCartney and Stevie Wonder, had made it less than a year before).
I remember McCartney once saying he wouldn't use the phrase "the doggone girl is mine" in one of his lyrics, but it worked for Jackson.
(Debateable.)
Surprisingly considering it was the lead single off the album that revolutionized music videos, no video was released for the song.
Don Henley, "Dirty Laundry," #3, 1/8/83
After his first single off
I Can't Stand Still
was a surprising flop, Henley notched a huge hit with this attack on the media.
This may have been a reaction to an incident in November 1980, where he called paramedics to help a 16-year-old girl who was at his home – Henley feared she'd overdosed on Quaaludes and cocaine.
(The fact she was naked when the paramedics got there may have also aroused some curiosity.)
Although it seems somewhat prescient today, it still comes off as bitter.
The song remains his biggest solo hit.
ABC, "The Look of Love (Part One), #18, 1/8/83
First hit for the Martin Fry-led dance/new wave group from Sheffield, England (also the home of Human League, Heaven 17, and… Def Leppard).
Fry didn't actually start the band, which was first called Vice Versa – he interviewed Stephen Singleton and Mark White for a fanzine, and was invited to join soon after.
This is a super catchy song and still gets airplay today.
The J. Geils Band, "I Do," #24, 1/8/83
Live version of the old Marvelows song from 1965, which originally appeared on the band's last Atlantic album,
Monkey Island
(at which time they billed themselves, briefly, as just Geils).
The parent album was
Showtime!
, recorded with the Uptown Horns in September 1982 and released two months later, to capitalize on the momentum of their huge hits "Centerfold" and "Freeze-Frame."
Kool & the Gang, "Ooh La La La (Let's Go Dancin')," #30, 1/8/83
Second single from the band's 1982 album
As One
, and probably should have been the lead single – "Big Fun" was nothing memorable; at least this had a catchy chorus.
This was the band's lowest-selling album since before James "J.T." Taylor joined the band and the first not to generate at least one top 20 hit during that time; they might have been better off taking a year off rather than jumping back into the studio without much to say.
Kim Carnes, "Does It Make You Remember," #36, 1/8/83
Second single from her
Voyeur
album; this is a torchy wish-you-were-here ballad.
I have this album, and it's hard to say why the songs weren't hits like "Bette Davis Eyes" was for Carnes in 1981; I can only assume the song was so ubiquitous that people got sick of that sound quickly.
In any case, the song is totally unavailable for download (and, in fact, be careful downloading "Bette Davis Eyes" as well; Carnes has done several rerecordings for low-budget labels).
Air Supply, "Two Less Lonely People in the World," #38, 1/8/83
Apparently the United States had finally gotten sick of Air Supply; this was their second straight single to barely scratch the top 40 after seven straight top 5 hits.
Another drippy ballad – apparently that's all Clive Davis would let them release at that point.
Cowritten by Howard Greenfield, who had a songwriting partnership with Neil Sedaka in the 1950s and 1960s, resulting in a bunch of hits – and, trust me, you'd much rather hear "Oh, Carol" or "Breaking Up Is Hard to Do" over this.
Janet Jackson, "Young Love", #64, 1/8/83
Bet you didn't know Janet Jackson released two albums before 1986's breakthrough
Control
.
This was her first chart hit, and it's while it won't make anyone forget "Nasty Boys" or "What Have You Done for Me Lately," it's not awful.
Jackson was 16 years old at this point and recording probably wasn't a priority (she also had a recurring role on
Diff'rent Strokes
at this time), so temper your expectations accordingly.
The Commodores, "Painted Picture," #70, 1/8/83
I'm not a record company executive, but it would seem a pretty stupid idea to release a Commodores greatest hits set with two new songs within a month of Lionel Richie's first solo album after leaving the band.
Richie's album went quintuple platinum and yielded three top 10 singles; this single sank without a trace.
Not a surprise; they tried to match Richie with a gentle ballad and failed.
It's hard to believe this was once a band made of equal parts; this and subsequent songs leave the impression that Richie was the whole show.
Michael Stanley Band, "Take the Time," #81, 1/8/83
Fifth Hot 100 hit from the band, and give EMI-America credit for trying to break this group from the Cleveland market (they had been on five other labels, both regional and national, in the past without charting any singles).
Too bad they weren't particularly successful.
Cowritten by Mott the Hoople and Bad Company guitarist Mick Ralphs, who also appears on the record.