This one was inspired by a dream – when I was sitting in with the band in a concert.
(I have no ability to play a musical instrument, and while I could sing a bit in my 20s and early 30s, those days are long gone.)
Which leads me to note R.E.M. would really be doing their fans a favor by releasing a standalone live album from earlier in their career, while drummer Bill Berry was still with the band.
(Two of their three live albums are after he resigned from the band in 1997, and while the other has half its songs from 1991, it's an unplugged album – hard to get excited about hearing a drummer in those conditions.)
Anyway.
As I've settled into old fogydom during the last 25 years or so, R.E.M. was one of the few bands whose new releases got me going to the record store (at least until
Monster
came out, but apparently I'm not alone on that one).
R.E.M. is no more; they broke up in 2011 and have firmly ruled out reuniting for any reason – which probably won't stop speculation, but that's fine with me.
My opinion is they've realized their most creative years were behind them (ask any fan what their favorite album is and 95 percent of the answers will be from the first 10 years the band was recording, rather than the last 19) and it was best to stop rather than doing "we're obviously only doing this for the money" tours and albums every three to five years.
(You may wonder Who could I be talking about, or am I just Rolling along until I hit the rocks and Stones?)
They're still one of my favorite bands (even though their only album I can sing along with most of the songs is
Automatic for the People
), and I'm honestly giving all of their post-Bill Berry albums a chance, critics be damned.
R.E.M. was with two different labels – I.R.S., a medium-sized independent label that had such acts as The Go-Go's, The English Beat, The Alarm, and Magazine among its clients, for its first five studio albums, and Warner Brothers thereafter.
Not surprisingly, this has led to many of the "best-ofs" not completely represent their career, since the monoliths that now own all the major labels (I.R.S.'s catalogue is now under control of Universal Music Group) don't always play nice.
Fortunately, there's one exception.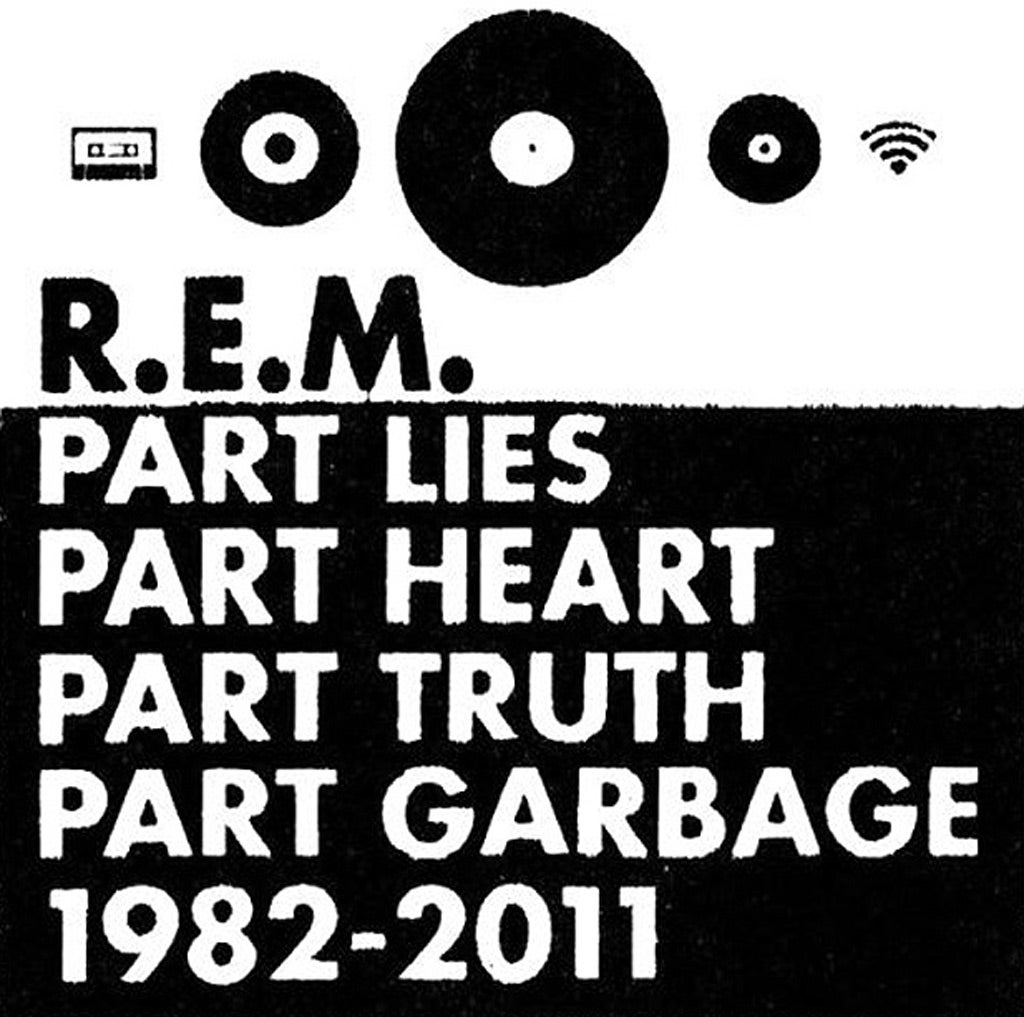 This was released two months after they announced their breakup, and just eight months after
Collapse Into Now
, their final studio album, was released.
There aren't many rarities (two songs introduced during the
Collapse Into Now
sessions are included, along with one written and recorded after that album's release, and "Bad Day," which had only appeared until then on another hits set), but that's okay – this is a beginning-to-end album of almost every recognizable, popular and fan favorite from the band's long career.
(Okay, I'll toss out a few that could have been included and weren't:
"Can't Get There From Here," "Drive," "Bang and Blame," "E-Bow the Letter," and "Bittersweet Me."
Plus "Shiny Happy People," which annoys both the fan base and the band, is included – but I'd wager most of the band's fans under age 20 were first exposed to R.E.M. when they saw it performed by the group on
Sesame Street
.)
Anyway, it's two-full length discs, it represents the band's entire career, and there are a few songs here you can't get anywhere else.
I don't own it, but it's on the list of stuff I'm going to buy as soon as I see it at a decent price.
(I do have all their studio albums and two other hits sets, though.)
It's $11.82 for the physical two discs on Amazon, which isn't ridiculous – and definitely beats the $18.99 download price.
Other options, with their Wikipedia entries linked:
Dead Letter Office
(1987) – Almost all B-sides of singles and a couple of rarities upon its initial release, released between
Lifes Rich Pageant
and
Document
.
I.R.S. made the CD much more valuable than the cassette and vinyl versions by including the band's first release,
Chronic Town
, a 1982 five-song EP originally only available on vinyl and cassette, on the CD.
Dead Letter Office
is the only place you can find those songs today, which makes it a worthwhile purchase even if it's not actually a "hits" collection.
Also notable for their versions of Aerosmith's "Toys in the Attic" (good) and Roger Miller's "King of the Road" (bad).
Amazon has this at $7.99 for the CD and $9.49 for the download, along with $16.99 for the vinyl reissue.
Eponymous
(1988) – I.R.S. released this right after the band signed with Warner Brothers.
It's a pretty good selection – all the basic hits, a few alternate mixes and/or versions, and "Romance," from the soundtrack of
Made in Heaven
, a 1987 Timothy Hutton-Kelly McGillis movie I don't remember at all.
R.E.M.'s output on I.R.S. is hard to find in used record stores; this is the most likely to be spotted there.
$5.99 for the download on Amazon is a bargain, but it doesn't seem to be in print on CD any more (although it's $16.99 for the vinyl reissue).
R.E.M.: In the Attic – Alternative Recordings 1985–1989
(1997) – I.R.S. sold out to Capitol Records in the mid-1990s.
Capitol has usually been very good about reissues (their careful handling of The Beach Boys catalogue rightfully gets praise from the band's fans), but for some reason in this era, whoever was handling reissues was far more careless.
Thus, we received this "EMI 100
th
anniversary" release of various outtakes and rarities (one of which had already appeared on
Eponymous
and two from
Dead Letter Office
, so that claim is suspect).
The title is incorrect (one of the songs was from June 1984), and they even got some running times wrong.
The 100
th
anniversary line itself appears limited – the only other release I can find in the series is from Blondie, who shares with R.E.M. the honor of never having recorded a note for Capitol (Capitol bought out Blondie's label, Chrysalis, around the same time); meanwhile genuine Capitol EMI heritage acts such as The Beach Boys, The Beatles, and Frank Sinatra have no such releases.
Out of print, not available for download, you're not missing anything.
In Time: The Best of R.E.M. 1988–2003
(2003) – this covers their first 15 years on Warner Brothers, so you won't find "Driver 8" or "The One I Love" here.
It's really good, though – the only major hit missing is "Shiny Happy People" ("Drive," "Bang and Blame," and "Bittersweet Me" are missing, but they're not nearly as crucial).
$4.99 for the CD on Amazon (but they claim to only have three left, so they might be clearing the shelves), and $11.99 for the download.
If you can find it, there's a two-disc set that's even better – the second disc has a bunch of B-sides and a few live versions (including "The One I Love" and "Drive, if you're upset about those not being on the first disc); it's out of print and not available for download, but Amazon has it through third-party sellers.
And I Feel Fine... The Best of the I.R.S. Years 1982–1987
(2006) – basically EMI/I.R.S.'s counterpart to
In Time
, which isn't necessarily a bad place to be.
The problem is the band did a lot less recording with I.R.S., and the selection shows – 20 of the main disc's 21 songs are from their five studio albums, with the exception being "Gardening at Night," which is on
Dead Letter Office
.
So there's really nothing here for fans who already have all of those albums.
As with
In Time
, there's a harder-to-find two-disc version; but the "rarities" disc has some not-so-rare stuff (each band member gets one pick from those same five studio albums).
I will say there are some live versions, however – and I'd go for the two-disc set if it was easy to find; unfortunately it's not.
(The one-disc version is $10.49 for the download on Amazon; it appears they're out of stock on the physical version.)
Amazon third-party sales are quite confusing – this album is listed in eight different versions, and it's hard to tell what you're getting (except for a very expensive 2 CDs & 1 DVD set), so I would hate to point someone to that option and have them get a one-disc version instead.
If you can't find this in used CD stores, I'd recommend going to Half.com, which at least makes the listings very clear.
(The same goes for
In Time.
)
Complete Rarities: I.R.S. 1982–1987
(2014) and
Complete Rarities: Warner Bros. 1988–2011
(2014) – again, two different versions from the two different labels, but there must have been some level of cooperation, since they were released on the same dates and the packages have identical cover designs.
Actually, there is no physical "cover," since these are available for download only.
These are all the B-sides, live versions, alternate takes, and so forth that you've been seeing on many of the other releases above, but I assume this cleans the closets altogether.
The only difference is the price:
the I.R.S. set is $19.99 on Amazon for 50 songs; the Warner Brothers set is 131 songs, but goes for $79.99.
Fortunately, only four songs between the two sets are only available if you download the whole set:
the original Hib-Tone versions of "Radio Free Europe" and "Sitting Still" (both of which are on the two-disc set of
And I Feel Fine
; the Hib-Tone "Radio Free Europe" is on
Eponymous
anyway), a live version of "The One I Love," and a live version of The Troggs' "Love Is All Around" (?).
My recommendation, unless you need every note the band ever committed to tape, is sample and pick what you like.